Now that you have decided that you want to sell on eBay either as a full time or part-time business venture, there will come a time when you have sold all the unwanted items from around your home and the homes of of your family and friends. If this is you and you have sold everything around you, do not give up now. You have seen the system works and that you can make some good money, by selling on eBay.
Please do not let people tell you product sourcing is hard. Well yes it can be hard, but only if you let it be so. To start with if you follow some guidelines and look out for products on a daily basis, you will get a good headstart, and product sourcing will become part of your life, and soon you will see products all over the place, and product sourcing will become part of your life.
A good thing to have with you at all times, is a note book and pen, (or PDA etc), and when you see a product you would like to sell or source, make a note of :
@ Where you saw the product.
@ The Cost of the Product.
@ The maker or importer of the product
@ And any other notes that will help you.
While you are making up your Product Sourcing Book, you can be on the lookout for products in all different places.
1) eBay believe it or not is a very good place to buy and source your products from. You can either buy of eBay.co.uk for resale on the same site, or you can buy off another eBay country site to resell on another eBay site. This is real simple and you can make some good profit this way.
2) Another area where you can go product sourcing, and this will not cost you anything until an item is sold is drop-shippers. Drop shippers keep your stock and once you sell an item, you contact the drop shipper and they send the item to your customer. But please if you go this route check out the drop-shippers and make sure you feel OK using them, and that they are a real company.
3) The third area for product sourcing is craft fairs. When you visit these fairs either at home or when you are on holiday, as you walk around keep your eyes and ears open and think to yourself could I sell this on eBay and if the answer is a yes, chat with the owners and see what happens.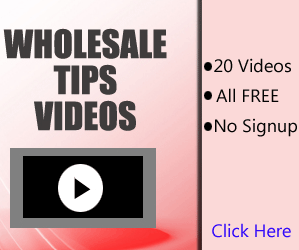 4) The fourth area is Trade Shows, look on sites such as Google, and type on the type of product you want to sell and use Trade Show as a tag and see what comes up. If there is a trade show in your area for the type of product you are thinking of selling, go along and see what is happening, and see all the different types of product on sale to the trade.
5) The last area for quick product sourcing is if you have a friend who owns a "real" shop and they stock items you would like to sell, you can chat with them and see if you can sell for them and be thier online sales arm – for a commission of course. Or they may sell to you at wholesale cost.
The above are just five quick examples of how you can get products in your hands to sell within 24 hours. As you fill out your product sourcing book, you will have many ideas for products, product ranges and different selling examples.
Have fun and enjoy the exciting world of product sourcing.